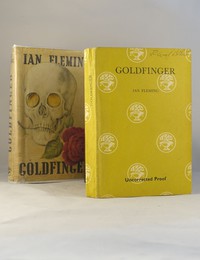 Uncorrected proof copy of Goldfinger, only tiny numbers exist with the dust jacket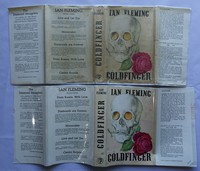 Proof dust jacket top. Published first edition bottom.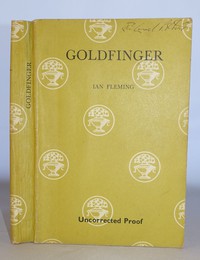 The uncorrected proof contains many minor errors and text differences to the published editions
07. Goldfinger
Author : Ian Fleming
Publisher : Jonathan Cape
Format : Paperback
Series : Cape proofs
Edition : Uncorrected proof
Year : 1958 (first published with this artwork)
Country published : UK
Artwork designer : Richard Chopping
General Notes
The proof dust jacket has the same design on the front, spine and rear flap as the published editions.
The front flap has DR NO (proof) vs DOCTOR NO (published).
The rear panel has the reviews in a different order, for the published version they are in reverse chronological order.
Price Guide
Nov 2015. A copy without the proof dust jacket was sold for $3500 by Heritage Auctions.