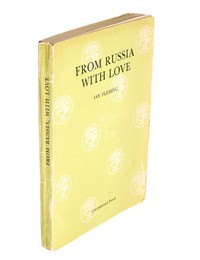 Uncorrected proof copy of From Russia With Love by Ian Fleming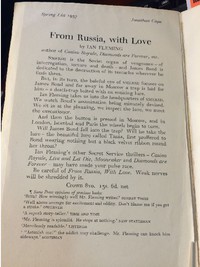 Letter / leaflet pasted inside front cover.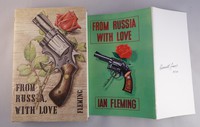 No proof dust jacket has been found but on the right is shown the unused artwork Kenneth Lewis designed for the book.
05. From Russia With Love
Author : Ian Fleming
Publisher : Jonathan Cape
Format :
Series : Cape proofs
Edition : Uncorrected Proof
Year : 1957 (first published with this artwork)
Country published : UK
General Notes
​Only a tiny number of early uncorrected proof copies are known to exist.
No copy has been found with a proof dust jacket but its interesting to speculate whether a proof copy was put together with the Kenneth Lewis design for the dust jacket (see photo) that was rejected in favour of the Richard Chopping Design.
Price Guide
​Nov 2015. A copy was sold by Heritage Auctions for $40,000